Objective
On 24th February 2022, Russia launched a military aggression against Ukraine. As a response, the EU launched a series of packages of sanctions.
In the transport sector, DG MOVE adopted two temporary frameworks for state aid to mitigate the effect of rising energy prices and another one to mitigate the impact of the war on the industry. 
Furthermore, in July 2022 the EC published a proposal for a new regulation facilitating state aid of Member States for transport.
In mid-May 2022, DG MOVE fostered the set-up of "Solidarity Lanes" and organised three platform meetings between the EU and Ukraine industry to enable the export of Ukrainian grain to the EU. Rail infrastructure managers are requested to provide priority on their rail networks for trains transporting foodstuff from Ukraine. 
DG MOVE also advanced its 2nd call for proposals related to the budget envelope for military mobility of the Connecting Europe Facility (CEF 2.0).
EIM in action
EIM closely monitored the topic and engaged in and facilitated dialogue between its members, other sector stakeholders and the EU institutions;

EIM also provided several analyses for its members on the impact of EU sanctions vis à vis Russia and the different EU measures relevant for their business.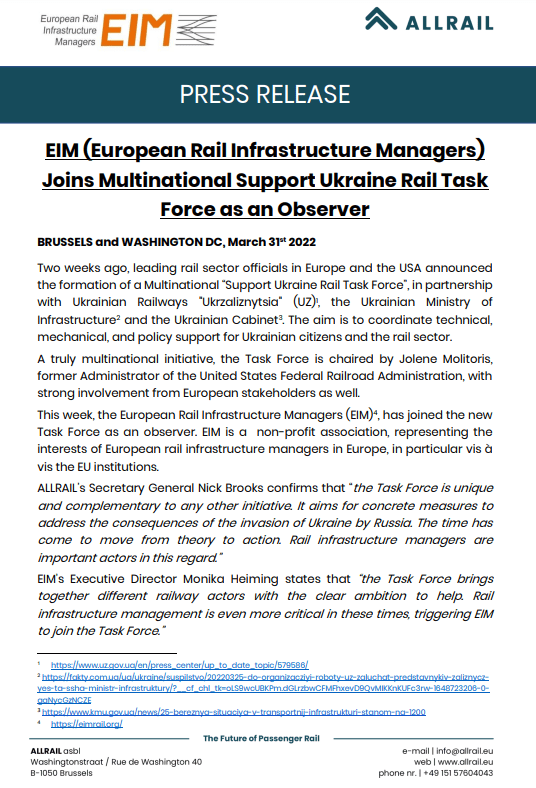 EIM actions in  2022
EIM cooperated with all relevant EU bodies (policy, impact, contribution of IMs), its members (exchange on measures), RUs (exchange on humanitarian trains and other measures), other stakeholders;

EIM also maintained a proactive dialogue with DG MOVE (contingency measures, contributions of IMs, etc.);

EIM joined the international "Support Ukraine Rail Task Force" as observer;

EIM listed a range of measures and initiatives of its members related to Ukraine;

The EIM team engaged on a private level via material and financial donations.
Outlook  2023
EIM will continue to monitor the development on EU level related to the situation in Ukraine;

EIM will continue to analyse the impact of any related initiative and decision for its members;

EIM will continue to foster the exchange of information and good practice.

EIM will continue to exchange with its members on their initiatives to help Ukraine.